Age-Related Macular Degeneration (AMD)
Age-Related Macular Degeneration (AMD)
As our bodies age, so do the rest of our organs. It's Important to continue the health of your body, especially one of the most important organs, your eyes. Seniors and those over the age of 50 may be affected by what is called age-related macular degeneration. At Retina Consultants of Minnesota, our highly acclaimed surgeons have the tools and techniques to help you.
What is Age-Related Macular Degeneration (AMD)?
Age-related macular degeneration (AMD) is a condition of aging in which the macula (the central portion of the retina) deteriorates and gradually loses functionality. For adults over the age of 50 in the US, it is one of the most common causes of vision loss. AMD is classified into two different subtypes: dry and wet.
What are the Symptoms of Age-Related Macular Degeneration?
Symptoms of AMD can include:
Blurry or distorted vision, especially close to the eye's central vision
Dark areas in central vision
Objects appearing dull or dim
In the early stages of AMD, some patients may not be aware that anything is wrong with their vision, especially if only one eye has been affected. In other cases, patients may experience some form of vision loss early on, but dismiss their symptoms as a natural result of aging. However, in order for patients to preserve and maintain their vision, it's crucial that they schedule regular eye exams and report any vision-related symptoms, especially as they get older. Early diagnosis can make a world of difference when it comes to managing AMD, while also connecting patients with the most recent treatment developments.
AMD Diagnostic Testing Procedures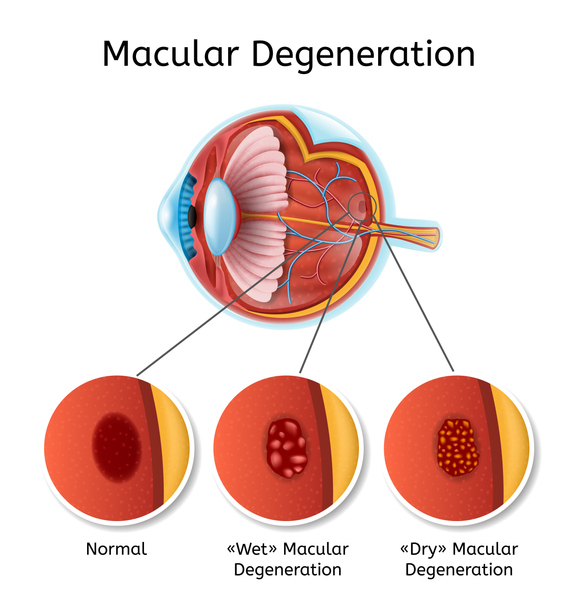 There are several diagnostic tests that can be used to diagnose AMD. Your doctor may perform any or all of the following examinations:
Dilated eye exam, in which the ophthalmologist looks for retinal pigment changes and the presence of drusen
Visual acuity test
Amsler grid test
Optical coherence tomography (OCT), an imaging method that uses infrared light to take high-resolution images of the retina
Fluorescein angiogram, an imaging method that uses specialized dye to highlight blood vessels in the eye
Why Should I Choose Retina Consultants of Minnesota For My AMD Treatment?
Retina Consultants of Minnesota features a team of award-winning retina specialists who have extensive experience in treating AMD and all conditions of the macula. Headed by Dr. Herbert Cantrill and led by our Guiding Values, every member of the staff is dedicated to providing each patient with the best available medical skills, technologies, and service in a friendly and compassionate environment. Retina Consultants of Minnesota exists to serve our patients and care for them as if they were members of our family.
Age-Related Macular Degeneration Treatment
Dry AMD
At this time, there are no cures available that can reverse dry AMD, nor are there foolproof interventional medical methods that can prevent the possibility of developing the condition. However, there are a few ways to slow the progression of dry AMD. Ophthalmologists often recommend that patients take certain vitamins, minerals, and supplements on a daily basis to help maintain their vision health. Our doctors typically recommend the following vitamins and supplements:
Vitamin E
Vitamin C
Copper
Zinc
Lutein
Zeaxanthin
Before beginning any vitamin regimen, be sure to discuss it with your doctor. Your doctor will also provide you with the correct recommended dosages for each vitamin and supplement.
Wet AMD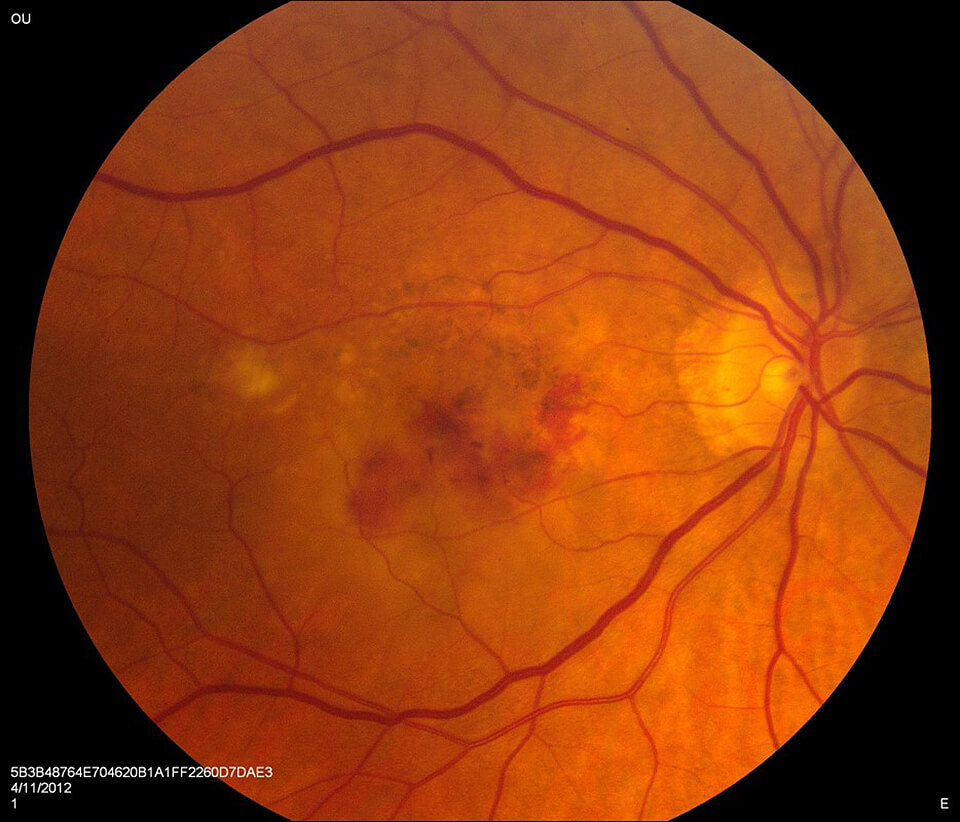 Wet AMD is typically treated using intravitreal injections of anti-vascular endothelial growth factor (anti-VEGF) medications. This class of medications helps to prevent abnormal blood vessels from forming in the eye. The most well-known anti-VEGF medications are Avastin (bevacizumab), Eylea (aflibercept), and Lucentis (ranibizumab). These medications are administered via direct injection into the vitreous cavity and are generally performed as an in-office procedure. Depending on the severity of the case, some patients may require monthly injections or multiple injections.
Another innovative treatment option for wet AMD is photodynamic therapy. In this procedure, the patient is injected with a special photosensitive agent called verteporfin. After injection, verteporfin travels to the ocular blood vessels; once it reaches its destination, a non-thermal laser shines a light on the targeted area and activates the verteporfin into sealing any abnormal blood vessels. For five days after the procedure, it's recommended that patients avoid direct sunlight and strong indoor light. Photodynamic therapy is generally performed on patients every three months.
Anti-VEGF injections and photodynamic therapy are both preferred methods of treatment for when there is abnormal blood vessel growth (choroidal neovascularization) near or under the fovea centralis, which is a small indentation found at the center of the macula. The fovea consists of a high concentration of cones and is responsible for the most precise levels of central visual acuity. However, in cases of wet AMD where choroidal neovascularization has not reached the fovea, the condition may be treated using thermal laser coagulation. This procedure utilizes a high-energy laser beam to seal abnormal blood vessels shut so that they no longer bleed into the retina.
Frequently Asked Questions About AMD At Retina Consultants of Minnesota
How Long Does it Take for AMD to Progress?
The progression of AMD is different for every patient. In many cases, the condition's progression happens gradually over time or produces very few symptoms. These changes may even go unnoticed for a while. However, in other cases, the disease may progress quickly and aggressively. Patients may experience compromised central vision in one or both eyes.
While vision loss can happen as a result of AMD, complete blindness is rare. Because AMD only affects the macula, peripheral vision generally remains in tact. However, when central vision is affected, it can make everyday activities, such as reading, very challenging.
What is Dry Age-Related Macular Degeneration?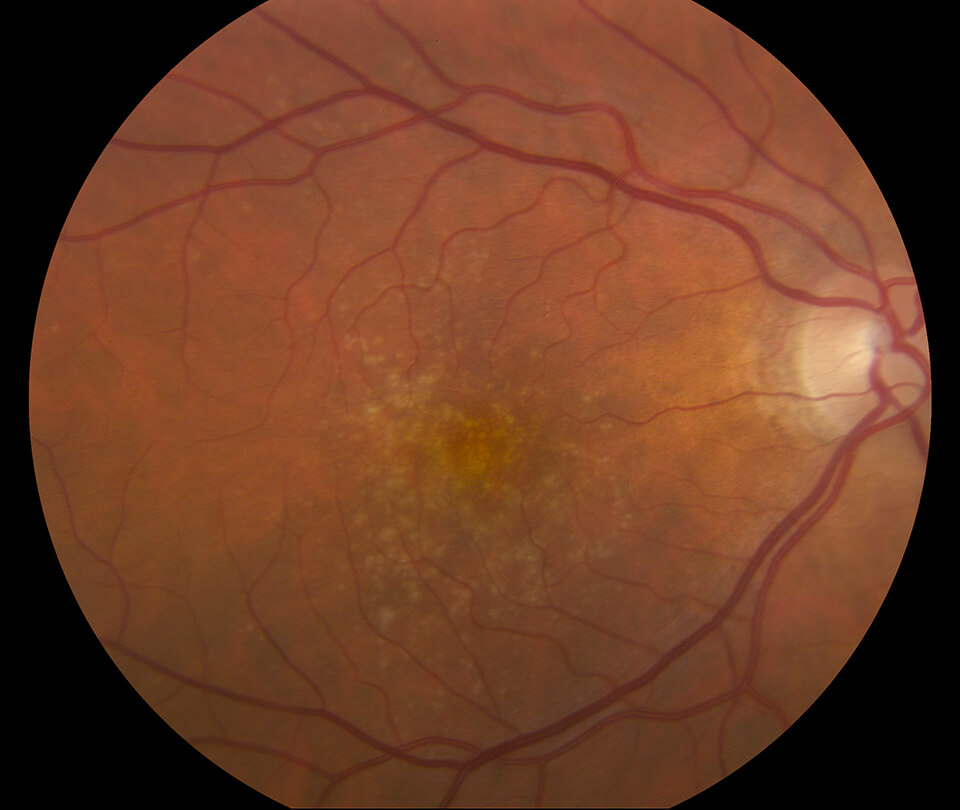 Dry AMD typically occurs when drusen (yellow deposits of protein and debris) accumulate beneath the retina. Unless central atrophy develops, it's unusual for patients with dry AMD to experience extreme vision loss and impairment. However, because dry AMD can eventually develop into the far more serious wet AMD, patients with dry AMD must be vigilant about their eye health. Staving off wet AMD is crucial for maintaining vision; it's estimated that 90% of AMD patients with severe vision loss have wet AMD.
What is Wet Age-Related Macular Degeneration?
Wet AMD is characterized by the growth of abnormal blood vessels (also known as choroidal neovascularization) near and under the retina. As wet AMD progresses, the primary symptoms that patients experience include degradation of central vision, distorted or blurry vision, and dark areas in the central field of vision. Diagnosing wet AMD and documenting blood vessel growth requires specialized imaging methods, including OCT, fluoscein angiography, and retinal color fundus photography. The risk for severe vision loss depends on the location of the choroidal neovascularization, with blood vessel growth occurring near or under the foveal centralis posing the greatest risk.
Are There Different Stages Of AMD?
AMD is classified into three distinct stages, each of which features with their own signs and symptoms.
Early Stage AMD
In the early stages of dry AMD, physicians generally observe a higher than normal number of small to medium-sized drusen under the retina. At this point, patients will not experience any vision loss and may only experience very minor symptoms.
Intermediate Stage AMD
As dry AMD progresses to the intermediate stage, patients accumulate more and larger drusen or may even exhibit pigment changes in the retina. While patients in the intermediate stage are unlikely to experience severe vision loss, they may experience some significant vision impairments.
Late Stage AMD
As AMD progresses into the late stage, vision starts to become significantly impaired. One of the most commonly reported symptoms of late-stage dry AMD is that straight lines look crooked or distorted. Blurry central vision is another common symptom. At this point, it becomes increasingly likely for the patient to develop wet AMD.
Schedule a Consultation
To learn more about age-related macular degeneration, please call (800) 877-2500 to schedule a consultation.
We have locations in Minneapolis, Blaine, Edina, St. Louis Park, St. Cloud and Duluth.