About Retina Consultants of Minnesota
We specialize in the medical and surgical treatment of disorders involving the retina, macula and vitreous. Because of the highly specialized nature of our services, most of the patients seen in our offices have been referred to us by other eye care providers and physicians.
Each of the physicians of Retina Consultants of Minnesota is a board-certified ophthalmologist and has undertaken additional subspecialty training in retina, macula and vitreous disorders. The combined experience of our physicians exceeds 200 years of practice. Our physicians have authored or co-authored over 350 scientific articles in their subspecialty. We have been investigators in many multicenter clinical trials studying new treatments for a variety of difficult diseases affecting the retina, macula and vitreous. Our physicians are active and frequently hold leadership positions in local, national and international ophthalmological and vitreoretinal professional societies.
Conditions commonly evaluated and treated by our physicians include retinal tears and detachments, diabetic retinopathy, macular degeneration, ocular trauma, ocular tumors, inflammatory ocular conditions, hereditary retinal diseases and a variety of less common, highly complex disorders. We utilize the most advanced, state-of-the-art techniques to provide the best treatment available today for vision threatening diseases.
Many of our patients come to us with conditions requiring urgent treatment. The 24-hour availability of our physicians for emergency referrals provides excellent support for our referring doctors and facilitates optimal care.
All of our physicians are certified by the American Board of Ophthalmology.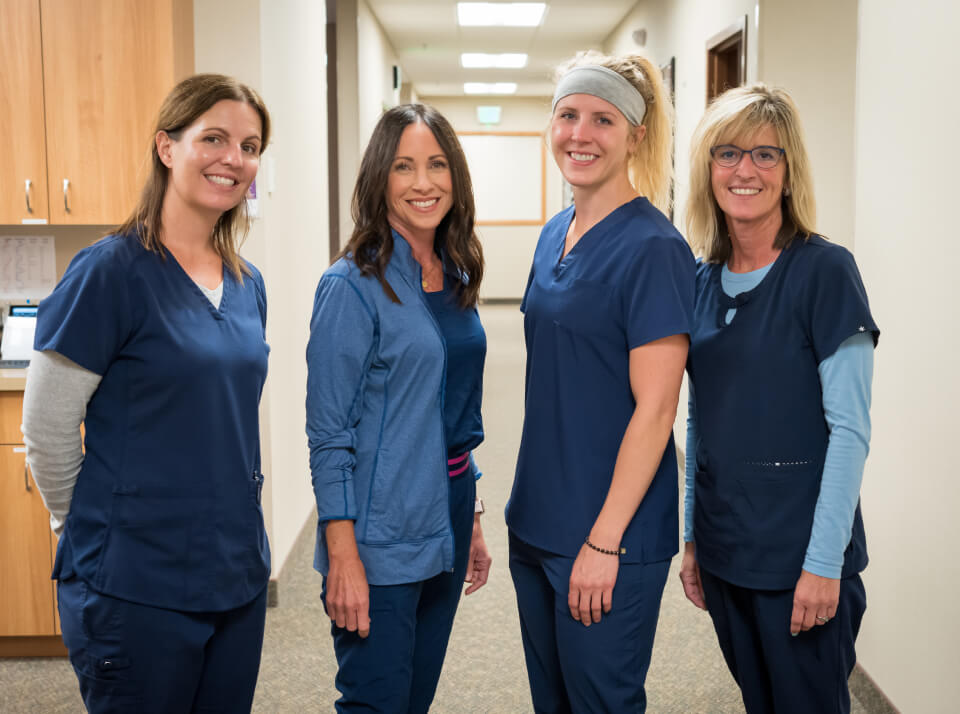 Our Legacy of Care in Minnesota
In 2022, VitreoRetinal Surgery and The Retina Center joined forces to form one retina practice called Retina Consultants of Minnesota. For over 30 years, VRS and TRC operated separately in the Minneapolis-St. Paul Twin Cities area, with VRS seeing over 117,000 patients and TRC seeing almost 50,000 patients annually. As Retina Consultants of Minnesota, our unified practice consists of 17-board-certified retina specialists operating out of 11 practices, making us the largest retina practice serving patients in Minnesota, North Dakota, South Dakota, Iowa, and Wisconsin.
Guiding Values
Patients
We exist to serve our patients. We will provide the best available medical skills, technology, and service. We will be their advocates. We will care for our patients as if they were members of our family. We will treat our patients with respect, dignity and kindness.
Employees
We are proud of our dedicated staff. We will strive to provide a rewarding career with opportunity for personal and professional growth. We will promote teamwork. We will provide a respectful and safe working environment.
Referring Doctors
We are humbled that other doctors entrust their patients to our care. We will be available when we are needed. We will promptly communicate the results of patient evaluation and treatment. We will respect the referring doctors' relationship with their patients.
Community
We recognize that we have a responsibility to our community. We will strive to be a good corporate citizen. We will function ethically. We will be prudent in our stewardship of healthcare resources.
Education and Research
Medical advances are critical to our patients. We will remain at the forefront in the search for new knowledge and treatments of retinal diseases. We will participate in clinical research. We will share our knowledge with our patients and referring doctors, and with our retinal colleagues around the world.