Vascular Occlusive Diseases of the Retina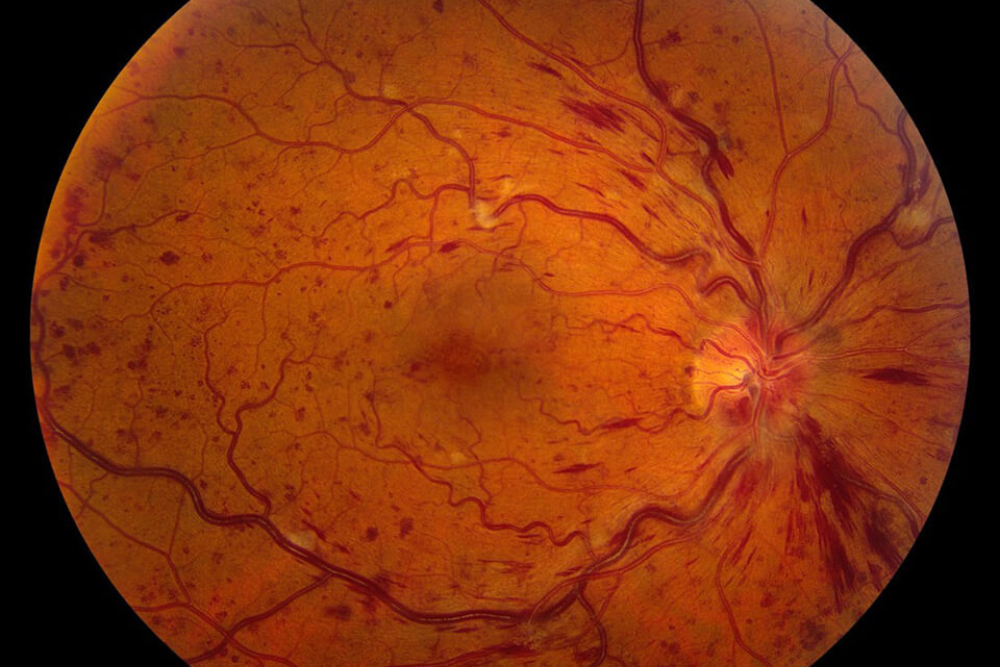 Like all parts of the body, the retina and eye are supported by a complex vascular system, consisting of arteries, veins, and branch blood vessels. The role of the arteries in the retinal vascular system is to provide the retina with a steady supply of blood, oxygen, and nutrients so that it can perform its functions properly. Meanwhile, veins drain depleted blood away from the retina, directing the blood back to the heart so that it can be re-oxygenated and recirculated throughout the body.
When one of these blood vessels becomes obstructed, it is known as a retinal occlusion, also sometimes referred to as an "eye stroke." There are four types of vascular occlusive diseases of the retina: central retinal artery occlusion, branch retinal artery occlusion, central retinal vein occlusion, and branch retinal vein occlusion.
Central Retinal Artery Occlusion (CRAO)
Central retinal artery occlusion (CRAO) is when the central retinal artery becomes obstructed or closed off. The central retinal artery runs along the optic nerve and pierces directly into the eyeball, with many smaller branch arteries spread across the retina. Together, this system fuels the retina with oxygenated blood and nutrients. When the central artery is occluded, patients experience a painless loss of vision in the affected eye.
There are a number of conditions and situations that can potentially cause CRAO, including carotid artery atherosclerosis (lesions in the carotid arteries, which run along both sides of the neck), carotid plaque build-up, inflammatory diseases like giant cell arteritis, vasculitis, and systemic autoimmune conditions.
CRAO is a very serious condition that can cause localized tissue death in a short amount of time. Patients can often have irreversible changes to their vision after experiencing CRAO. Furthermore, CRAO is often a harbinger of an impending cerebrovascular or cardiovascular event (e.g. ischemic stroke). Patients who are the most at-risk for developing a CRAO include those who are over the age of 50, men, smokers, and individuals with certain underlying conditions (e.g. diabetes, hypertension, etc.).
Branch Retinal Artery Occlusion (BRAO)
Branch retinal artery occlusion (BRAO) is when one of the central retinal artery's branches becomes obstructed. Like CRAO, the primary symptom that patients with BRAO experience is a painless loss of vision in one eye. The extent of vision loss that occurs is highly dependent on where the occlusion occurs.
BRAO is typically seen in older patients who have conditions that cause blood vessels to narrow or constrict. Some of these conditions include diabetes, high blood pressure, and high cholesterol. BRAO often occurs as a result of an embolism in the carotid arteries, which are the major blood vessels that run through the neck and supply blood to the brain, face, and neck. It can also be associated with some heart attacks or caused by the weakening of the arterial walls due to cholesterol buildup and/or the development of scar tissue.
Because BRAO can be caused by carotid artery embolism, which increases the risk of having an ischemic stroke, patients who present with BRAO must first be evaluated for their risk of having a stroke. As far as vision goes, the worst complication that patients with BRAO can experience is permanent vision loss due to abnormal neovascularization, which is the growth of new blood vessels in response to retinal tissue death caused by lack of blood and nutrients.
Central Retinal Vein Occlusion (CRVO)
Central retinal vein occlusion (CRVO) is when the central retinal vein that carries depleted blood away from the eye and back to the heart becomes obstructed or blocked. This causes blood and fluid to leak into the retina, which can also lead to swelling of the macula (also known as macular edema). Because the macula controls your eye's central vision, CRVO can potentially have a significant impact on the affected eye's ability to perform tasks requiring visual acuity (e.g. reading, driving, recognizing faces, seeing color, etc.).
Signs of CRVO typically include blurred vision or vision loss. Some patients also experience floaters. Like other occlusive retinal diseases, patients who are most at risk are typically over the age of 50 and have other chronic health conditions, such as diabetes, hypertension, arteriosclerosis, or glaucoma.
Branch Retinal Vein Occlusion (BRVO)
Branch retinal vein occlusion (BRVO) is when one of the central retinal vein's branches becomes obstructed or blocked. Depending on where the BRVO is located, a patient may not notice any symptoms of anything being wrong, but they often occur where the central retinal artery and vein intersect. The most common cause of BRVO is the narrowing of the blood vessels.
In many cases, the symptoms of BRVO are similar to those of CRVO – blurred vision, floaters, and a loss of vision in the affected eye. Vision loss from BRVO is often caused by macular edema or neovascularization.
Treatment of Vascular Occlusive Diseases of the Retina
Because patients with vascular occlusive diseases of the retina are at a higher risk of having a cerebrovascular event (i.e. a stroke), one of the first steps of diagnosis and treatment recommended by retina specialists is to be evaluated for stroke risk factors. Patients may be sent to a stroke center or the emergency room immediately, depending on the circumstances.
In cases where the occlusive disease has led to neovascularization, doctors will often treat the new abnormal blood vessel growth with intraocular injections of anti-vegetative endothelial growth factor (anti-VEGF) medications. Anti-VEGF injections such as Avastin, Eylea, and Lucentis can help stop the abnormal blood vessels from forming and leaking. In cases where macular edema has occurred, a retina specialist may recommend intraocular injections of corticosteroids to help reduce inflammation and swelling. Laser therapy is also sometimes used to combat damage caused by vascular occlusive diseases.
Get Advanced Care for Retinal Vascular Occlusions in the Midwest
As the largest retina practice serving patients in Minnesota, Iowa, Wisconsin, North Dakota, and South Dakota, Retina Consultants of Minnesota has diagnosed and treated many patients with vascular occlusive diseases of the retina, including CRAO, BRAO, CRVO, and BRVO. If you are experiencing vision loss, floaters, blurry vision, or any other unexplained changes to your vision, it's important that you seek medical care right away. We encourage you to contact Retina Consultants of Minnesota today and schedule an appointment.