Why Diabetic Eye Screenings Are Crucial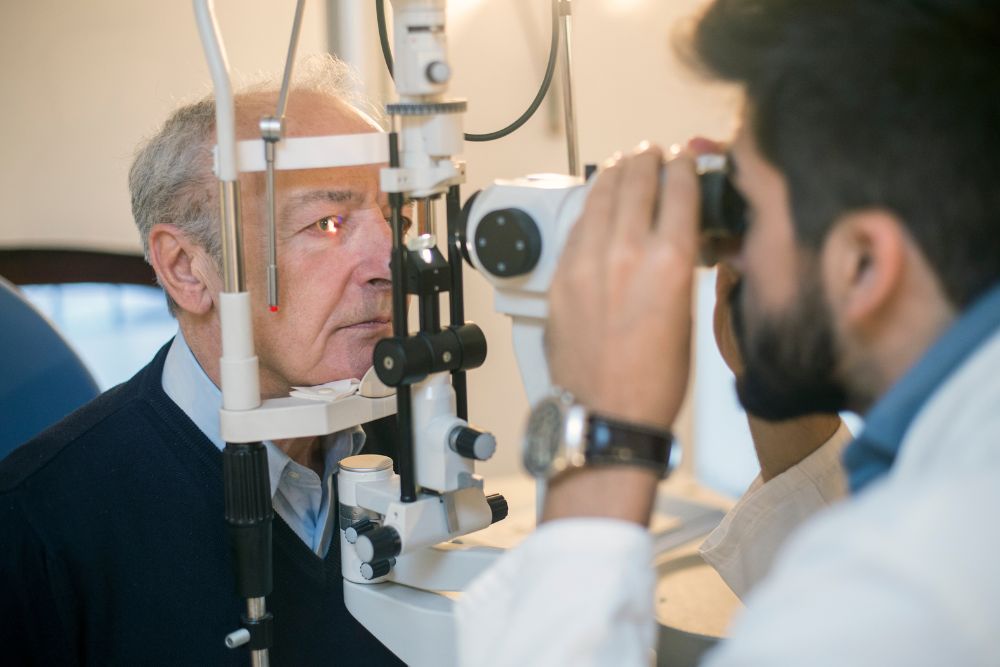 Did you know?: Research shows that people with diabetes have a 25 times higher risk of blindness than those without diabetes.
If you live with diabetes, you know that it can be particularly harmful to your vision. To maintain your eye and vision health with diabetes, regular dilated eye exams are essential, as they make it possible to detect vision conditions in their earliest stages before they worsen and lead to vision loss.
How Does Diabetes Affect Your Eyes and Vision?
With diabetes, the body cannot properly use and store blood sugar (or glucose). Excess glucose stays in the bloodstream and if uncontrolled, can cause damage to blood vessels throughout the body, including those in the eye. This may lead to the development of conditions such as diabetic retinopathy and its related complication, diabetic macular edema (DME). Diabetes can also increase your risk for other vision-related conditions, like cataracts and glaucoma.
The Importance of Dilated Eye Exams for Diabetes
In general, getting regular dilated eye exams every year is recommended for everyone, especially older individuals who are at a higher risk of developing various vision conditions. Having diabetes may require more frequent exams, though:
For type 1 diabetes, it's recommended that you get a diabetic eye screening within five years of your diagnosis.
For type 2 diabetes, schedule an exam immediately following your diagnosis.
For pregnant women with gestational diabetes, schedule an eye exam within the first three months of pregnancy, and then one year postpartum.
You must continue to practice proper diabetes management. This includes regularly taking insulin and other medications, as well as managing any other conditions, such as high cholesterol and hypertension. While having uncontrolled blood sugar levels increases your risk of diabetic retinopathy, people with controlled diabetes are also at risk.
What Does a Diabetic Eye Exam Entail?
During a diabetic eye exam, your eyes are dilated to detect conditions earlier. Special eye drops are applied to widen (dilate) your pupils, allowing an unobstructed view of the back of the eye, including the retina, macula, optic nerve, and related blood vessels. Additional tests may be performed, including:
Fluorescein angiography, in which photographs are taken of your retinal blood supply to detect damaged blood vessels.
Optical coherence tomography (OCT) provides cross-sectional retinal images. OCT identifies thinning or thickening blood vessels to indicate leaking fluid.
A glaucoma test to monitor changes to intraocular pressure (within the eyes), which can increase due to natural eye fluid buildup. Typically, you'll have the "puff-of-air" test, in which a device called a tonometer is aimed toward your open eye. It lets out a puff of air, and based on your eye's response, it calculates your intraocular pressure. This test allows early detection of glaucoma, a condition that typically has no symptoms until permanent vision loss develops.
A vision test is a vital part of any eye exam. It involves identifying large and small letters on a distant eye chart to measure vision clarity.
Regular dilated exams are essential for conditions that may not have any symptoms, like diabetic retinopathy. Monitoring may be the best — and often, the only — opportunity to identify them before they worsen, leading to vision loss.
Schedule a Diabetic Eye Screening in Minnesota
Having any type of diabetes can affect your eye and vision health, making regular dilated eye exams essential. If you'd like to schedule a diabetic eye screening, or you have any questions about retinal health, we encourage you to contact Retina Consultants of Minnesota today.