Women's History Month: Women Who Shaped Vision Care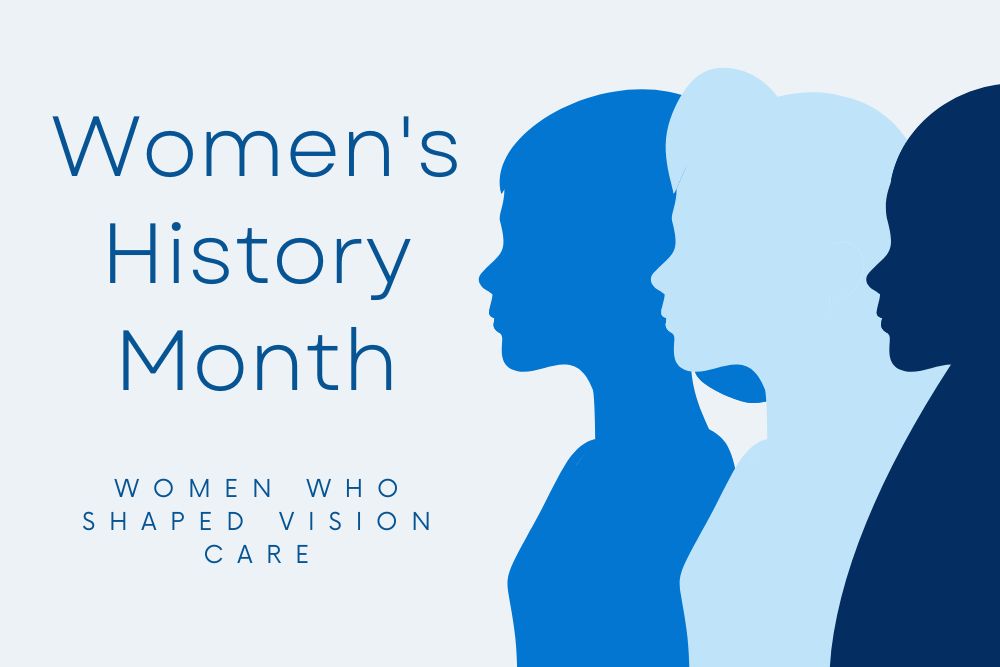 With National Women's History Month here, it's a good time to commemorate female breakthroughs in vision health. For example, Dr. Isabel Hayes Chapin Barrows left her mark as the first woman to practice ophthalmology and perform eye surgery in the US. Dr. Alice McPherson gained renown as the nation's first female retina specialist. Finally, Dr. Patricia Bath advanced technology as the inventor of laser cataract surgery.
Dr. Isabel Hayes Chapin Barrows, The First Female Ophthalmologist
Dr. Isabel Hayes Chapin Barrows, born in 1845 in Irasburg, Vermont, developed an interest in biology and medicine at an early age. At 19, she started her medical career at The Jackson Sanatorium, a mineral spa that specialized in hydrotherapy. There, she met her future husband and life partner, Samuel J. Barrows, who encouraged her to pursue her dream of becoming a doctor.
In 1869, Isabel enrolled in the Woman's Medical College of the New York Infirmary for Women and Children, where she earned her medical degree. She then traveled through Europe, where she mastered ophthalmology under the tutelage of renowned Professor Johann Friedrich Horner at the University of Zurich, Switzerland. Once her studies were completed, she returned to the States and opened a private practice clinic in Washington, DC, becoming the first female doctor in the city to open up a private ophthalmology practice, as well as the nation's very first female ophthalmologist. She was also the first female professor at a medical school, teaching at Howard University from 1870 to 1873.
Dr. Alice McPherson, The First Female Vitreoretinal Specialist
Dr. Alice McPherson is renowned as an educator, founder of prestigious organizations, and pioneer of influential retinal treatments. Born in Saskatchewan, Canada, on June 20, 1926, she completed her undergraduate studies, medical school, and ophthalmologic residency at the University of Wisconsin-Madison. She then completed her fellowship with Dr. Charles Schepens at the Massachusetts Eye and Ear Infirmary in Boston. She was the school's first female vitreoretinal fellow.
Dr. McPherson pioneered groundbreaking procedures in retinal surgery, including cryotherapy and scleral buckling. She also advocated using laser photocoagulation to treat diabetic retinopathy, a previously controversial stance, now widely accepted. In 2014, she was awarded the Gonin Medal, ophthalmology's oldest and most prestigious honor. She was the inaugural recipient of the Retina Hall of Fame Lifetime Achievement Award in 2019. Dr. McPherson established The Retina Research Foundation (RRF) in 1969, serving as President and Scientific Director. Dr. McPherson also founded the McPherson Eye Research Institute at the University of Wisconsin (UW) in 2005.
Dr. Patricia Bath, The Inventor of Laser Cataract Surgery
Dr. Patricia Bath earned a place in vision health as an ophthalmologist, educator, and advocate for blindness prevention. However, her passion for laser research may be just as influential. Born in Harlem, New York, on November 4, 1942, she completed a fellowship in ophthalmology at Columbia University. From 1970-1973, she finished her training at New York University, as the first African American ophthalmology resident.
While starting a family, she completed a fellowship in corneal transplantation and keratoprosthesis (replacing human corneas with artificial ones). During this time, Dr. Bath developed a new discipline called community ophthalmology, which combines public health, community medicine, and clinical ophthalmology. In 1977, she helped to found the American Institute for the Prevention of Blindness (AIPB), to protect, preserve, and restore the gift of sight to children worldwide.
Dr. Bath invented and patented multiple laser techniques for eye surgery, including a new device and method for cataract removal. Known as excimer laser photoablation, or "laser phaco," it was patented in 1988. She became the first African-American woman to receive a patent for a medical purpose.