What Makes Retina Consultants of Minnesota the Doctor's Choice for Retinal Care
When it comes to the medical and surgical treatment of disorders involving the retina, macula, and vitreous, Retina Consultants of Minnesota is the retina-only practice of choice for referring providers in Minnesota. Many of our patients are referred to us with conditions requiring urgent treatment. The 24-hour availability of our physicians for emergency referrals provides excellent support for our referring doctors and facilitates optimal care.
Each of the physicians of Retina Consultants of Minnesota is a board-certified ophthalmologist certified by the American Board of Ophthalmology and has undertaken additional subspecialty training in retina, macula, and vitreous disorders. Together, their experience exceeds 200 years of practice. When referring patients to Retina Consultants of Minnesota, doctors can feel confident that their patients are in the best hands.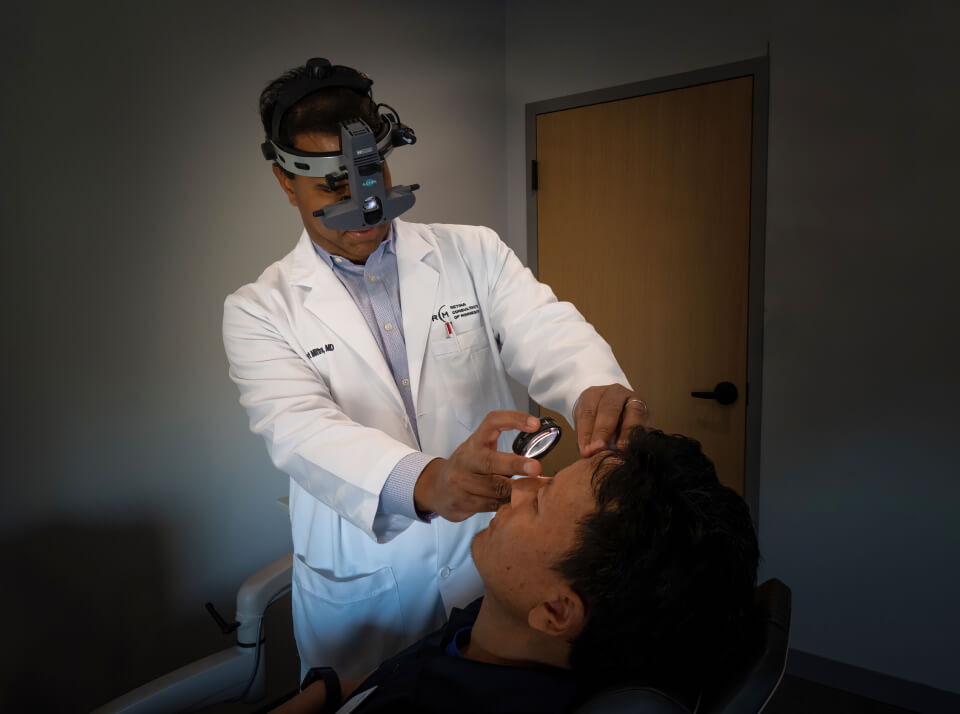 Our Legacy of Care in Minnesota
After 30+ years of operating separately in Minnesota, VitreoRetinal Surgery and The Retina Center came together in 2022 to form one retina practice – Retina Consultants of Minnesota. Together, we form the largest retina-specialty practice in the Minnesota area, serving over 165,000 patients annually in Minnesota, North Dakota, South Dakota, Iowa, and Wisconsin. As Retina Consultants of Minnesota, we will continue to uphold the values upon which we build and maintain strong relationships with referring providers. We are honored to continue providing exceptional, vision-saving retinal care to your patients.
The RCM "Doc to Doc" Guarantee
We are humbled that other doctors would entrust their patients into our care and are dedicated to honoring our relationships with referring providers through exceptional availability, communication, and respect. To build and maintain strong, trusted relationships, we are guided by our "Doc to Doc" Guarantee:
We exist to Serve and Advocate for the Care of our Patients.
We will Schedule and Confirm all Referrals Same Day.
Our Doctors are always available for "Doc to Doc" Consultations.
We will see all Urgent Referrals within the RCM Network within 24 Hours.
Secure Fax or Encrypted email is used for all PHI Communications.
Consult Letters on New Patients are issued within 48 Hours of Exam.
Why Choose RCM
RCM is the practice of choice for more than 50,000 patients in the region.
RCM is a leader in Research and Clinical Trials for new forms of treating retinal diseases, 20 studies are currently underway.
RCM also features specialized care in Uveitis, Pediatrics, and Genetics.
Research at RCM
For over 35 years, RCM has participated in numerous national and international clinical trials for new treatments in retinal and macular diseases. As part of our dedication to the advancement of clinical research, we operate The Macular Degeneration Research and Treatment Center, where we connect eligible patients with the opportunity to participate in clinical trials that may offer advanced treatments not yet available to the general public. The RCM Study Department is supported by 15 retina specialists, a full-time clinical research staff, and our state-of-the-art facilities.
Our physicians have also authored or co-authored over 350 scientific articles in their subspecialty. We have been investigators in many multicenter clinical trials studying new treatments for a variety of difficult diseases affecting the retina, macula, and vitreous. Our physicians are active and frequently hold leadership positions in local, national, and international ophthalmological and vitreoretinal professional societies.